As automated solutions infiltrate the job market and threaten once human-held positions, candidates are left seeking jobs in industries where human contact remains a top necessity — ultimately meaning job security. One such industry is healthcare, where human interaction remains an essential part of the service model and where certain technologies are targeted to support processes or create efficiencies. While widespread automation may be a welcome advancement in industries such as food and beverage, construction or cleaning, it is not an ideal for the healthcare industry. How can technology have an impact on healthcare? Let's discuss.
Tech Driving Candidates Towards Healthcare
In many industries, automation is replacing humans in the name of efficiency. This has driven candidates toward the healthcare industry, where human interaction remains at the center of its operations. While healthcare is by no means an automation-free industry, it is resilient to advances in technology that drive out human labor because no machine can replace the value of human care. The industry will continue to thrive and need a pipeline of candidates to care for an aging population with a high demand for quality healthcare services. According to the following graph from The Economist, automation potential is seen as low for the healthcare sector.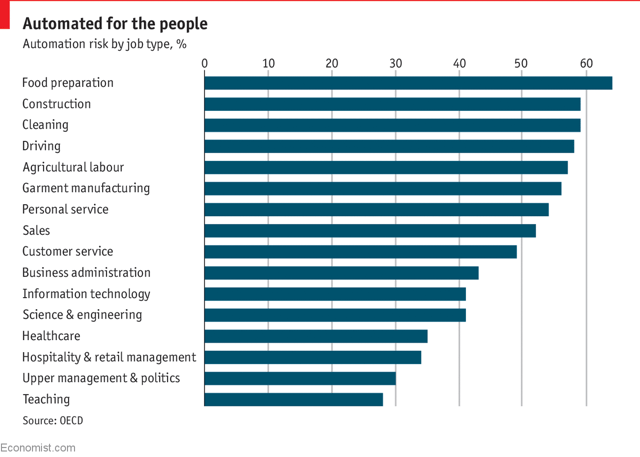 Senior Care: Automation-Resilient
One healthcare sector in particular remains relatively untouched by the shift towards automation: senior care. Artificial intelligence and machine learning will never fully replace two essential qualities related to senior care: human touch and the ability to cater to the needs of individuals. In the senior care industry, it's crucial for caregivers to embody basic human attributes such as touch, personality, compassion and care in order to successfully serve their patients. Even if automated tools were trained to do everything a caregiver, licensed practicing nurse or a registered nurse does, the human aspects will always be missing. For candidates seeking to capitalize on the demand for caregivers in the senior and healthcare professions, or looking to make a career jump from an automation-driven industry, ProsperCare exists to help with the transition.
ProsperCare Streamlines a Candidate Path into Healthcare
ProsperCare offers a path into the resilient healthcare industry to those who may simply have personal experience in care, but would be a valuable asset to the profession. As an advocate for candidates, ProsperCare is equipped to guide candidates from application to 90 days on the job, rather than having to go it alone. This starts with capturing a candidate's strengths and experience and determining how those translate for a match into specific healthcare roles. With ProsperCare, candidates know whether they are pre-qualified and immediately invited to interview within minutes of applying. ProsperCare uses technology to serve the client hiring side of the recruitment process, by hosting a daily online job fair to speed forward the best hiring matches, which allows clients to be the "first-to-offer" — a key for winning candidates in the process.
ProsperCare Gives Clients the Time to Focus on What Matters Most
As a hiring partner to the client, ProsperCare software creates efficiencies in the recruiting process to ultimately give hiring managers the gift of time to focus on what matters most — providing for patient care. The platform is easy to understand, configure and get up and running and works alongside clients to eliminate hiring friction and give them an advantage in the marketplace. Want to learn more about ProsperCare software and services? Click here for more information and to learn how to streamline and elevate your hiring process with people-first workforce solutions. With no risk and high reward, what are you waiting for?
REFERENCES: